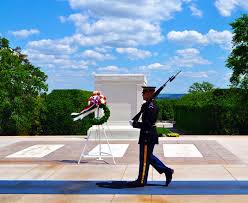 The Tomb of the Unknown Soldier, Arlington National Cemetery
After the Civil War, various towns in both the North and the South began to decorate soldiers' graves with flowers and flags.  These observances came to be known as Decoration Day.  The first time this day was formally recognized was May 30, 1868 when Maj. Gen. John A. Logan, a member of an organization of former Union veterans, proclaimed a day to honor the dead.  It is believed May 30 was chosen because flowers were in bloom all over the country.
It was another former Civil War general and later the twentieth President of the United States,  James Garfield who gave a speech at Arlington National Cemetery that day.  "We do not know one promise these men made, one pledge they gave, one word they spoke; but we do know they summed up and perfected, by one supreme act, the highest virtues of men and citizens.  For love of country they accepted death, and thus resolved all doubts, and made immortal their patriotism and their virtue."
By 1873, New York became the first state to make Memorial Day, as it slowly began to be called, a legal holiday.  Other states would follow suit.  It wasn't until after World War I ended in 1918 that the day changed from one honoring Civil War dead to one that honored those killed in all American wars.  In 1971, Congress established Memorial Day as a national holiday and declared it would fall on the last Monday in May.
Today, on the Thursday before Memorial Day a tradition known as "Flags-in" takes place at Arlington National Cemetery.  Each year, soldiers of the Army's 3rd Infantry (Old Guard) place small flags before the more than 260,000 gravestones and then patrol twenty-four hours a day to ensure the flags remain standing throughout the weekend.  The president or vice-president traditionally lays a wreath at the Tomb of the Unknown Soldier on Memorial Day itself.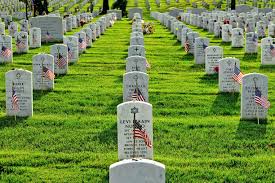 Many Americans may not realize, but according to the U.S. flag code American flags should be flown at half-staff until noon on Memorial Day and then raised to the top of the pole. Americans are asked to pause at 3:00 pm local time for a moment of remembrance.
Estimated number of military deaths through combat and other causes such as accidents and disease in American wars:
Revolutionary War (1775 -1783) – 25,000
War of 1812 (1812 – 1815) – 20,000
Mexican War (1846 – 1848) – 13,300
Civil War (1861 – 1865, both sides) – 620,000
Spanish-American War (1898) – 2,500
World War I (1917 – 1918) – 116,000
World War II (1941 – 1945) – 405,400
Korean War (1950 – 1953) – 36,600
Vietnam War (1964 – 1973) – 58,200
Persian Gulf War (1990 – 1991) – 380
Afghanistan (2001 – Present) – 2,320
Iraq War (2003 – 2011) – 4,423