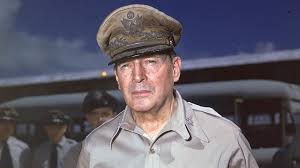 General Douglas MacArthur
General Douglas MacArthur's life is one of complete service to America.  A veteran of World War I, he led the 42nd Infantry Division into many of America's most intense battles of the war.  After World War I, he went on to become the chief of staff of the Army and was later asked by President Franklin D. Roosevelt to create a defense force for the Philippines, an American commonwealth at the time.
It was during World War II that MacArthur distinguished himself further.  In 1941, shortly before the Japanese attack on Pearl Harbor, MacArthur was named commander of U.S. Army forces in the Pacific.  After the Japanese attacked the Philippines, MacArthur organized the island's defenses before being ordered by President Roosevelt to leave the Philippines for Australia.  He received the Medal of Honor his actions.
By 1942, MacArthur was appointed supreme commander of Allied forces in the Southwest Pacific.  He spent the remainder of the war successfully commanding forces in the Pacific against the Japanese.  MacArthur ultimately accepted Japan's formal surrender aboard the USS Missouri on September 2, 1945 and spent the next six years overseeing Japanese reconstruction.
MacArthur was placed back in command of American and United Nations soldiers after Communist forces from North Korea invaded South Korea in 1950.  However, he was removed from his position by President Harry Truman after the two men disagreed over strategy, specifically whether to wage war against Communist China.  At the time of his removal from command, he was very popular with the American public who honored him with parades in various cities.
Towards the end of his life, MacArthur gave a speech to the corps of cadets at the West Point Military Academy in New York where he received the Thayer Award, given to a citizen whose service best reflects West Point's motto of Duty, Honor, Country.  MacArthur graduated from West Point at the top of his class in 1903.  He later served as the academy's superintendent from 1919-1922.
As America remembers those who have given the ultimate sacrifice for our country, Douglas MacArthur's words are must reading.  Click on the link below for a full transcript and audio mp3 of his speech delivered on May 12, 1962: