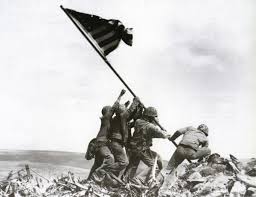 One of the most iconic pictures in American history, five Marines and a Navy Corpsman raise the American flag at the Battle of Iwo Jima during World War II.
The battle against Japanese imperialism in the Pacific theater of World War II was an inch by inch struggle against a determined enemy.  Few places exemplified this better than Iwo Jima. A small island of only eight square miles that was protected by the volcano Mount Suribachi on its southern tip, Iwo Jima saw some of the fiercest combat of World War II.  Its strategic location about 700 miles from the Japanese home islands made Iwo Jima or "Sulfur Island" in Japanese and its three airfields a place where American bombers and aircraft could land and launch attacks from.  Because the island was part of Japan, the Japanese defended it to the death.
The battle opened with an intense three day American naval bombardment that proved mostly ineffective.  Before a single American made landfall on the island, the Japanese spent years creating a network of underground tunnels and defenses.  Japanese General Tadamichi Kuribayashi had two objectives for their defense of Iwo Jima:  to kill ten Marines for every Japanese soldier and to fight to the death.  On February 19, 1945, the first waves of Americans hit the beach.  Despite being under constant fire from all over the island, about 30,000 U.S. Marines established a beachhead by the end of the first day.
By February 23, after heroic and bloody fighting, the Americans took the summit of 550-foot Mount Suribachi.  An American flag was raised on top of it.  Believing the flag was too small and could not be seen from below, American Colonel Chandler Johnson ordered the flag taken down and a larger flag put in its place.  American photographer Joe Rosenthal of the Associated Press along with Marine photographer Bob Campbell and Marine videographer William Genaust managed to get to the top of Mount Suribachi in time to witness the second flag raising.  Rosenthal took his famous photo at precisely the right time while Genaust caught the moment on video.
Below is video of the second flag raising on Iwo Jima:
The Six Flag Raisers:
John Bradley (Navy Corpsman):  Appleton, Wisconsin
United States Marines:
Mike Strank:  Franklin Borough, Pennsylvania – Killed in Action March 1, 1945
Harlon Block:  Rio Grande Valley, Texas – Killed in Action March 1, 1945
Franklin Sousley:  Hilltop, Kentucky – Killed in Action March 21, 1945
Ira Hayes:  Gila River Indian Reservation, Arizona
Rene Gagnon:  Manchester, New Hampshire
Joe Rosenthal's picture made its way to the front page of almost every newspaper in America and many around the world.  It became the most reproduced photograph in history, won Rosenthal the Pulitzer Prize and still stands as an indelible symbol of World War II and the American soldier.
Many Americans believe the photo of the flag raising was taken after victory was secured.  It was not.  In fact the Battle of Iwo Jima would continue until March 26, 1945.  U.S. Marines on the island faced a largely hidden enemy that used whatever means it could to kill Americans, including suicidal charges.  The American Navy offshore had to withstand Japanese kamakazi attacks throughout the battle.  There were 6,800 Americans killed and approximately 17,000 wounded.  The American casualties represented one third of all Marine Corps casualties of World War II.  Twenty-seven Medals of Honor were awarded, the most of any battle in American history.  Of the Japanese defenders, all but 216 of the 22,000 soldiers were killed.
Three of the 6,800 Americans killed were flag raisers.  Harlon Block and Mike Strank were killed within hours of each other on March 1.  Franklin Sousley was killed on March 21. After the battle, the three surviving flag raisers obtained notoriety and went on a tour of the country to urge Americans to buy war bonds.
Iwo Jima veteran Robert Hall, reflecting on the battle later in his life said, "I left some good friends there.  It was a battle with no front line – all man-to-man, inch by inch." American Admiral Chester W. Nimitz, the Commander in Chief of the U.S. Pacific Fleet during World War II reflected on the Battle of Iwo Jima saying, "uncommon valor was a common virtue."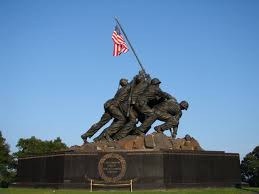 Marine Corps War Memorial – Arlington, Virginia
*UPDATE*  After a Marine Corps investigation that concluded in June 2016, it was determined that John Bradley was not one of the flag raisers in the iconic Rosenthal photo.  Bradley is believed to have been part of the earlier flag raising and confused the two events.  The credit now goes to Marine Private First Class Harold Schultz of Detroit, Michigan.  Schultz was seriously injured on Iwo Jima and died in 1995 without any public acknowledgement of being in the photograph.
Recommended Reading:  Flags of Our Fathers by James Bradley (son of John Bradley)
You may also enjoy reading: