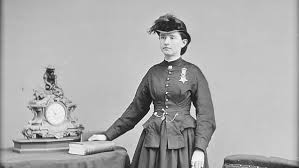 Mary Edwards Walker, America's only female Medal of Honor winner
Approximately 1.8 million American woman are veterans of the armed services.  Of this number only one has received the Medal of Honor, America's highest military award, for her service.  Mary Edwards Walker was a volunteer surgeon during the Civil War, was captured by Confederate forces and imprisoned for four months, and ultimately was awarded the Medal of Honor by President Andrew Johnson.
Walker was not the typical 19th century American woman.  She was the only female graduate from her medical school class at Syracuse Medical College in 1855.  When the Civil War started in 1861, she volunteered as a nurse near Washington, D.C. after being denied a commission as a medical officer.  In the fall of 1863, she moved to the bloody Civil War battlefields and was appointed assistant surgeon of the Army of the Cumberland in the war's Western Theater.  It was during this time that she tended to the wounded at the Battle of Chickamauga, where some of the hardest fighting of the war took place.
After the Battle of Chickamauga, Walker continued to treat both soldiers and civilians.  In 1864, dressed in full uniform south of the Georgia-Tennessee border, Walker accidentally walked into a group of Confederate soldiers and was captured.  She was sent to a military prison in Richmond, Virginia were she was held for approximately four months before being exchanged for a Confederate officer.  Some believe she acted as a Union spy during this period but the evidence on this appears to be inconclusive.
After her imprisonment, Walker received a contract as an "acting assistant surgeon" with the Ohio 52nd Infantry and supervised both a hospital for female prisoners and later an orphanage.  She was able to help the wounded during the Battle of Atlanta while a surgeon in Louisville, Kentucky before the war ended.
Although never commissioned during the Civil War because she was a woman, President Andrew Jackson signed a bill on  November 11, 1865 presenting Walker with the Medal of Honor for Meritorious Service.  Walker went on to champion various women's rights issues, specifically norms regarding women's dress.  She was not an advocate of the heavy dresses and corsets common to this period, preferring pants and men's clothing instead.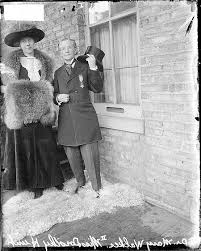 Mary Edwards Walker (Right) in later years
In 1916, just a few years before her death in 1919, the Army rescinded her medal because she was never officially in the Army.  Walker never gave her medal back, instead she wore it daily for the rest of year life.  In 1977, her medal was restored by Congress and President Jimmy Carter.  She remains the only female recipient of the Medal of Honor and is another example of an individual American who nobly served her country in a time of need.
You may also enjoy reading: